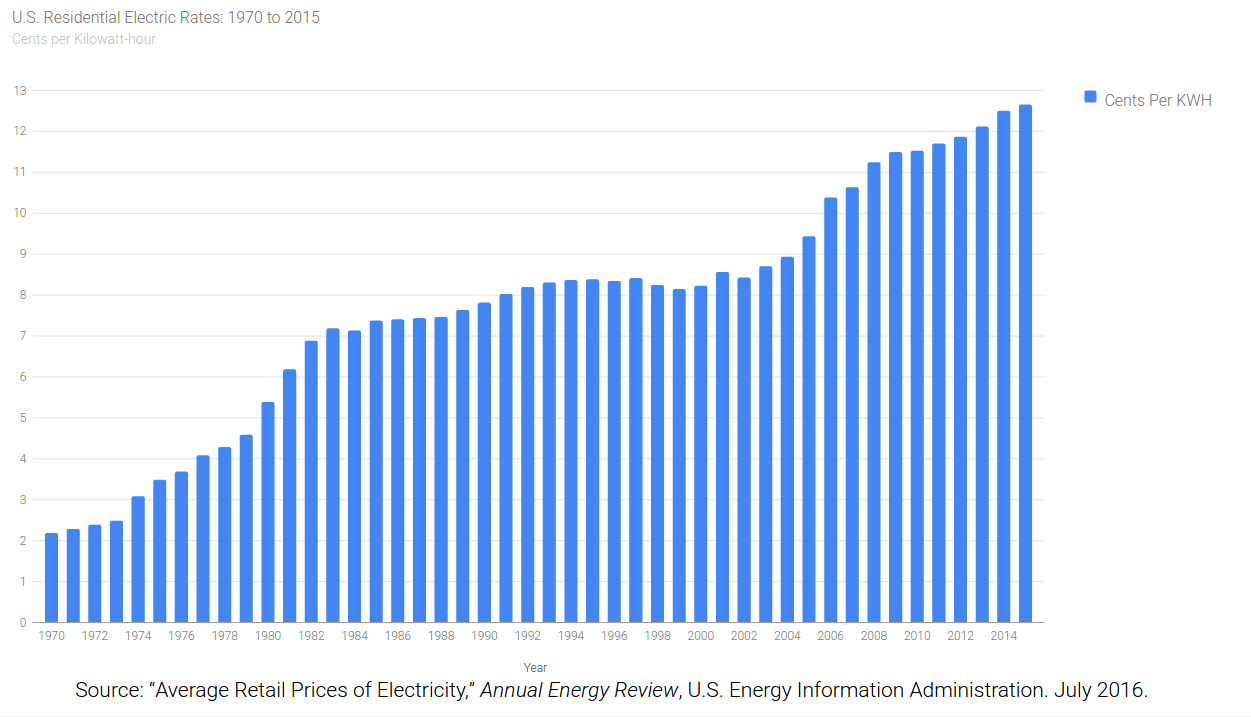 45 Years of U.S. Residential Electric Rates
"It's tough to make predictions, especially about the future."
—Yogi Berra (1925–2015)
New York Yankees Hall of Fame Catcher and Manager
We all know that it is impossible to predict what the future holds. No one can tell how much electrical rates will increase in the next decade, let alone next year. But without the help of a crystal ball, the past can often be out best predictor of what is likely to happen in the future.
Residential U.S. electric rates increased at a compound average yearly rate of 3.968% during the 45-year period from 1970 to 2015. However, as you can see from the chart is that electric rates rise steadily over a few years followed by sudden and dramatic spikes. With the OPEC oil embargo in the 1970s; the removal of utility cost price controls in the 1990s; war and instability in the Middle East throughout the 2000s. Electricity costs over the past 45 years have mostly increased due to the inflation in fuel costs, but also – in the sunbelt states – to power plant construction due to population growth.
With all of this data it is safe to say that future electricity cost increases will be at least as high if not higher as the increases seen over the last 45 years. Electric power generation is the number one cause of the atmospheric carbon dioxide emissions, which could potentially make future increases even greater, that's assuming inflation due to fossil fuels costs and population growth will mirror historical rates.
There are several ways climate change could drive electricity costs higher:
Carbon taxes
Replacement of aging transmission and distribution infrastructure with a "smart" grid
Modification of natural gas-fired and coal-fired powerplants to remove carbon and sulfur from smokestack emissions
Replacement of nuclear and coal-fired powerplants with natural gas powerplants and utility-scale solar power farms
The shutdown of powerplants in low-lying coastal prone areas prone to tidal surge flooding
We can't tell you what will happen to electric rates in the future, but we can tell you that a rooftop solar power system is an excellent insurance policy against the rising electricity costs. And the sooner you start, the more you'll save.